Skirting panoramic hillsides or winding through serene valleys, golf courses in South Okanagan got game. Pound your drive toward a mountain peak, venture risk/reward on a dogleg, or finesse an island green. Golf is a great score a stone's throw from sparkling lakes no matter the numbers on your scorecard.
Summerland Golf & Country Club offers a championship course in a secluded country setting overlooking the Okanagan Valley and Trout Creek Canyon, roughly 10 minutes from Highway 97. Here'll you find contrast with a front nine easy to walk and the back skirting the canyon as you weave through Ponderosa Pines and rolling hills. Arrive early or linger to enjoy the Championship Practice Facility, Golf Shop and the Canyonview Bar & Grill in the recently renovated clubhouse.
Just because it is nine holes, don't underestimate Sumac Ridge Golf Club. It offers one of the toughest holes in BC and plenty of challenges with spectacular views of Okanagan Lake. Plus, it offers a great little onsite restaurant to compare score cards after your match.
Located in a "Place to stay forever", the Penticton Golf and Country Club was founded in 1922 and ironically experienced a few moves before settling in as a championship course along the Okanagan River Channel. The flood control work that enabled its expansion facilitates its park-like setting which is immaculately conditioned. Despite being highly walkable, it requires solid putting and a strong wedge game given narrow fairways, greens guarded by bunkers and water in play on 12 holes. It offers practice facilities, a well-stocked pro shop and upstairs in view of the course, the Blue Heron Restaurant.
For a family-friendly quick nine-hole round, check out Pine Hills Golf Club. Perched on Penticton's West Bench, it has jaw-dropping views of Okanagan and Skaha Lakes. The Peach concession glistens in the distance – tempting you for a great post round destination to cool off with a creative milkshake treat.
A scenic country drive past Kaleden, along highway 3A you'll find the you'll find the Twin Lakes Golf Course. Surrounded by towering rock cliffs and mountains, it features elevated tees, strategically bunkered greens and fairways, water hazards on four holes and a narrow chute on hole 12 to test your accuracy. The clubhouse houses a small pro shop, snack bar, and restaurant and lounge. The 285-acre Twin Lakes Golf Resort features an RV Park, perfect for those who would like to camp and golf.
Distinctively Spectacular Golf
Around the corner in Kaleden is St. Andrews By the Lake. While only nine holes, it features a stunning island green and an overall friendly garden setting, you'll want to play.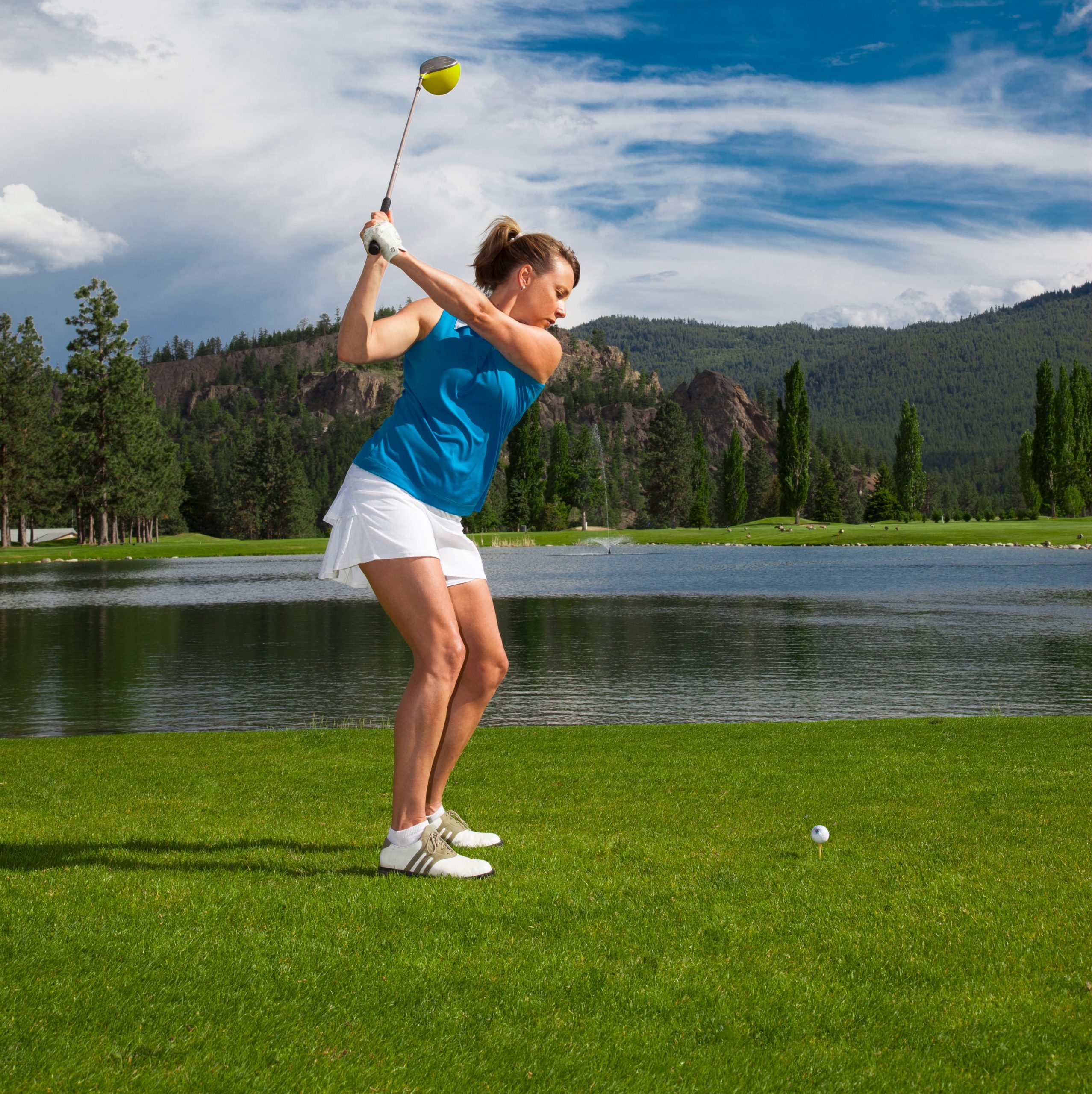 In Oliver, the "Wine Capital of Canada", amid vineyards and orchards are two diverse 18-hole courses. On the west side carved into the mountain by renowned Canadian golf architect Les Furber is Fairview Mountain Golf Club. A championship course measuring 7,025 yards, it accommodates all levels with five sets of tees. You'll need to be fit to walk the undulating hillside and on the hottest days, a cart is recommended. In high season, on course beverage service is available and at the turn, grab some great food at the Cactus Shack. Tone your game in the 10-stall driving range and extensive short game practice facility. Shop in the impressive pro shop, savour the scenery from its licensed restaurant Diamond Back Grill & Patio.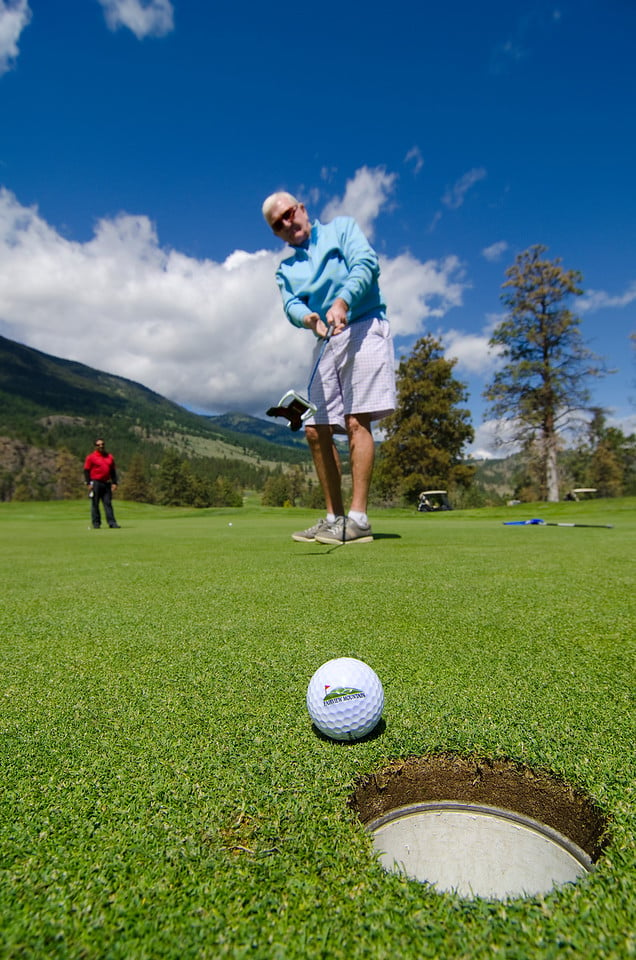 Across on the east side, Nk'Mip Canyon Desert Golf Course, owned and operated by the Osoyoos Indian Band, is a beautiful club featuring Indigenous motif. A walkable championship course playable up to 7,000 yards with a full range of tee boxes, it offers a 14-stall driving range, two chipping and putting greens, a CPGA pro shop, and GPS golf carts. Winding through sage, desert, vineyards and rock outcroppings, it's beautiful to behold. Catch a pre-game or after round meal in the Rattlesnake Bar + Grill.
When it's time to let "the big dog bark" again, head south to the Osoyoos Golf Club located in Canada's only true desert – a northern extension of the Sonoran Desert. In view of town, the shimmering lake, desert valley and mountain views, you are two distinct 18-hole championship courses and the Desert Golf Academy. Be humbled at Desert Gold par 71 ranging to 6,500 yards from the back of the four tee boxes. It is a test of precision as much as distance. Its gentle sibling, Park Meadows has a maximum length of 6,208 yards. It is a pretty gem that is easier to walk with graceful willows, rolling hilled fairways dotted with flowers and blossoming bushes. The CPGA pro shop has custom club fitting and demos. When operating at full capacity, concessions and beverage carts stave off thirst or appetite, and the Greenside Grill is known for its three dining areas, extensive patios and vistas.
Located at Spirit Ridge Resort, Sonora Dunes Golf Course is a stunning links-style nine-hole track. From the first green with an active osprey nest in view, you'll wind through sage brush for an exhilarating game. Enjoy the architecture of the resort with its art installations and NkMip Winery and the backdrop of shimmering Osoyoos Lake.
Gather your family, summon your buddies or arrive solo: South Okanagan golfing offers endless discovery.