Take a hike in the South Okanagan. From Osoyoos to Peachland, the options are boundless from urban pathways, marsh and desert boardwalks to mountain trails.
The Oxbows Trail is a wetlands area combining hiking with birdwatching. Sharing access with the parking lot just north of Osoyoos for the International Hike and Bike Trail, head south on the recently restored trail for the Oxbows. North, the International Hike and Bike Trail follows the Okanagan River Channel past vineyards and farmland.
To seek amazing vistas of the Similkameen and Okanagan Valleys, the Mount Kobau Trail leads you through sub-alpine forest and open grassland.
The Golden Mile Trail in Oliver starts at Tinhorn Creek Estate Winery and leads you from the vineyard up an incline to view the valley below with an option toward the Stamp Mill dilapidated ruins with a loop back. End with a winetasting and meal at Miradoro Restaurant at Tinhorn.
McIntyre Bluff with its trailhead at Covert Farms in Oliver rewards an ambitious climb with a breathtaking and sweeping view of the Okanagan Valley. Cap it off in the farm's Wine Lounge and pick up some fresh produce while you're there.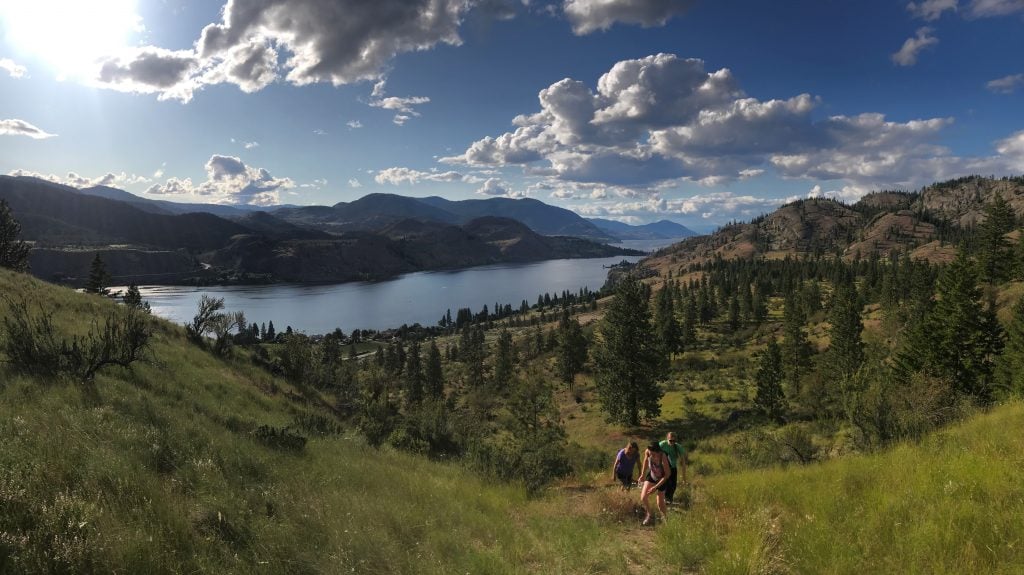 Vaseux Lake Wildlife Centre provides for an easy boardwalk stroll to a two-level bird observation platform.
White Lake Grasslands Protected Area offers the long and quite technical White Lake Loop to Mahoney Lake and other shorter pathways in the grasslands, by the Dominion Radio Astrophysical Observatory.
At Okanagan Falls, the Peach Cliff Trail is moderately difficult climbing atop the peak that overlooks the town, vineyards and the lake below. A stop at Tickleberry's to restore some carbs seems apropos.
With a range from moderate to highly challenging, Skaha Bluffs Provincial Park south of Penticton has a trail for all skill levels. Munson Mountain Lookout in Penticton offers a lovely stroll and rewards you with panoramic views of Okanagan and Skaha Lakes.
The Campbell Mountain Perimeter Loop has views of Skaha and Okanagan Lakes. Used frequently by hikers and mountain bikers.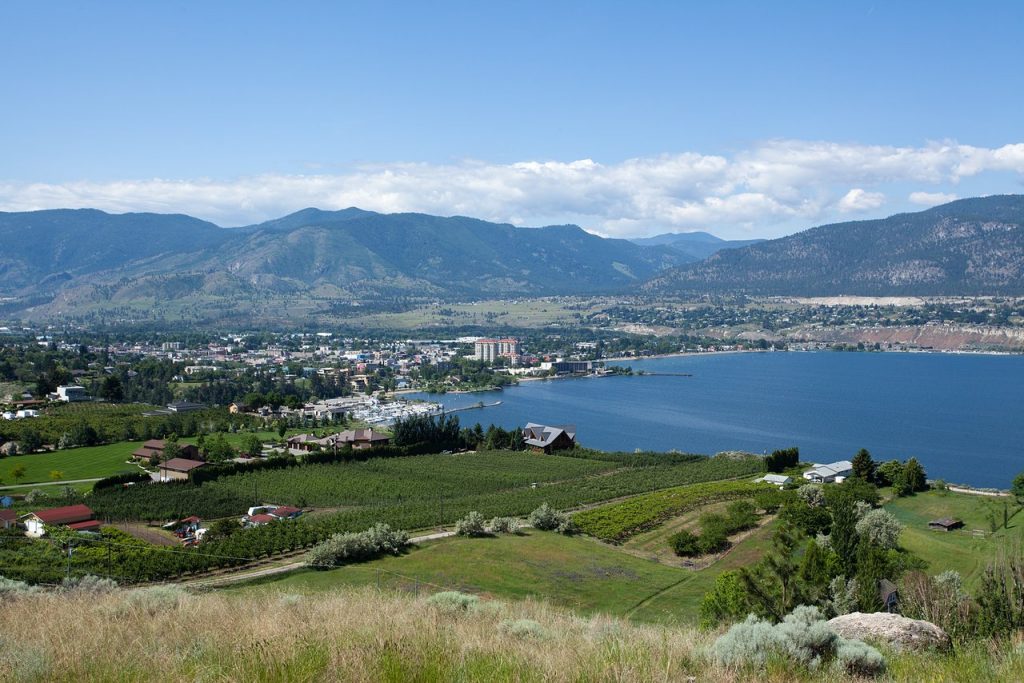 A 2.4 km round trip hike at Naramata Creek Park offers an easy hike with fascinating geological aspects including a lovely waterfall at the end.
Giant's Head Mountain Park at Summerland is a steep climb up a volcanic dome remnant to a 360-degree birds eye view of the Okanagan Valley, vineyards, farms and lakes.