British Columbia's interior landscape of vineyards, orchards, forests, ranch country, and desert hills set across the blazing summer sun are a site to see this summer.
The friendly resort town of Osoyoos is a popular beach escape from May until the end of September, showcasing sweet South Okanagan sunshine, vibrant scenery and the joyful residents eager to introduce their culture and activities.
Osoyoos Lake provides a dramatic panoramic vantage point to take in the swath of blazing hues. Hitting the lake for some water fun is certain to compel you to pause for several minutes in order to gaze in tranquility. Whether you're on a stand-up paddleboard, rowing in a kayak or canoe, or cruising by powerboat, summer on Osoyoos lake is an escape that enriches the soul and rewards your gumption to fling into nature.

And, after all of that activity, you'll be pleased to know you aren't going to go hungry in Osoyoos. The heart of BC Wine Country is among the leading culinary destinations in Canada. Connoisseurs and aspiring foodies will savour seasonal local flavours prepared by renowned chefs.

With more than 40 wineries within a 20-minute drive of Osoyoos, travellers can tour many vineyards during their visit, gaining knowledge of wine and the many varietals of grapes harvested in the valley.

This summer, take the road less traveled and experience all that Osoyoos has to offer.
ROUTE 97 SOUTH FROM KAMLOOPS (3.5 HOURS)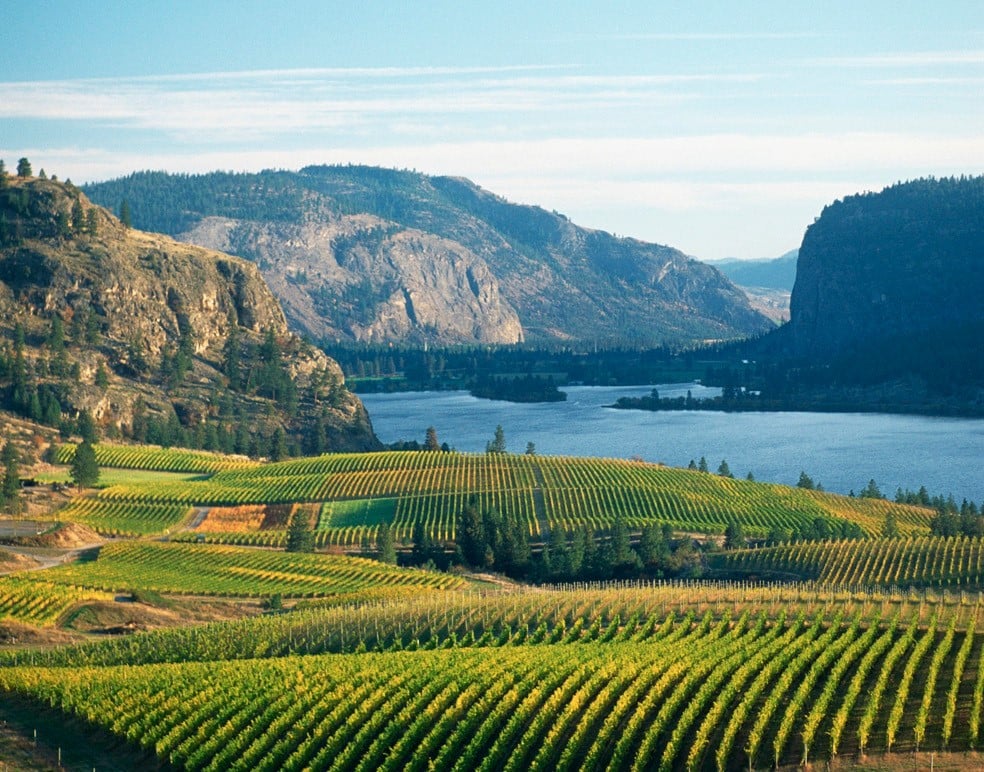 The Okanagan Valley Corridor is one of the most beautiful drives in British Columbia. Much of this section of Route 97 runs parallel to the Thompson River in the north and then beside a series of glorious lakes that flash by your window in a blitz of turquoise and blue. Okanagan, Skaha, Vaseux, and Osoyoos are the names of the large lakes you will glimpse on this sensational drive. On the way you will pass through iconic Okanagan communities such as Kelowna and Penticton that are all ecstatic about their most important commodity: wine.
As you drive south, acres and acres of vineyards line either side of the valley, surrounding those sparkling waters and framing the desert hills. Pre-book a handful of winery tastings in Oliver-Osoyoos wine country to enjoy intimate and educational experiences.
HIGHWAY 3 FROM VANCOUVER (4.5 HOURS)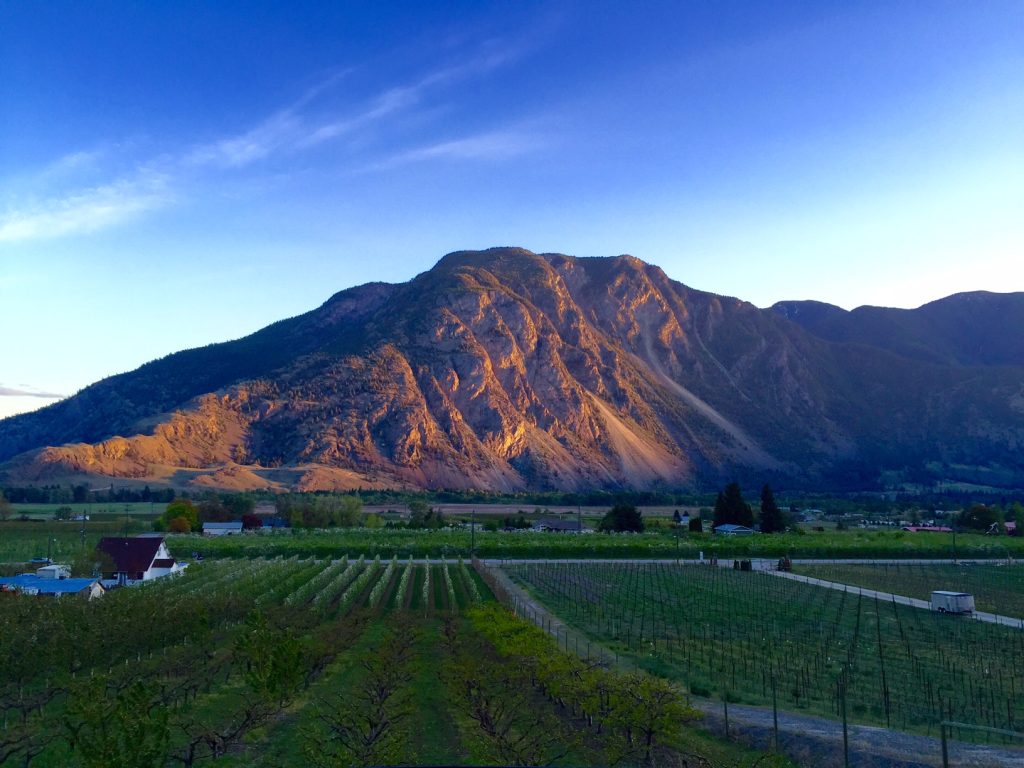 When heading east towards Osoyoos on picturesque Highway 3, road-trippers will venture through E.C. Manning Provincial Park, a pristine and rugged protected area that covers a remarkable 83,671 hectares — approximately four times the size of Salt Spring Island. The highway, also known as the Crowsnest Pass, rises and winds between the Cascade Mountains.
Once through this thrilling passage, you will come across charming communities such as Princeton and Keremeos where you can fuel up on gas, snacks, and coffee for the rest of the trip.
Just before arriving to Osoyoos, savour the stunning Similkameen Valley scenery. Lush orchards, organic vineyards, and award-winning wineries and cideries make this rustic area well worth a stop. Travelers can take a break at any one of the truss bridges to snap an Instagram-worthy photo of the landscape, which includes views of the Similkameen River and staggering Snowy Mountain.
HIGHWAY 3 FROM CRANBROOK (5 HOURS)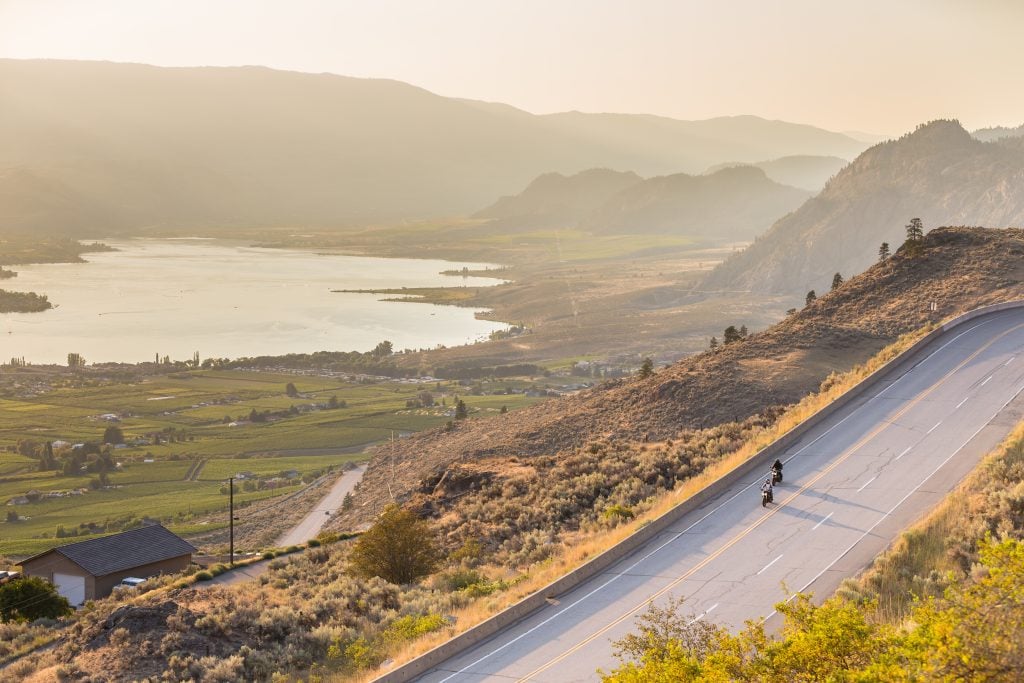 Winding through the mountains, forests and farmlands of the West Kootenay region, this route features some of BC's most historic communities, including Castlegar, Grandforks, and Greenwood.
On your way to Osoyoos, stretch your legs at the scenic Kettle River Recreational Area, where the Monashee Mountains are prominent and Ponderosa pine trees dominate. As the road nears Osoyoos, mountain views become ever more jaw-dropping. At the crest of the Anarchist Mountain Summit, prepare your eyes for a panorama of the valley that extends for miles. Pull over at the Anarchist Mountain Lookout point to capture this immaculate scene overlooking Osoyoos and the South Okanagan Valley.
No matter which direction you choose to venture to Osoyoos, and no matter what time of year, one thing is certain: Your next road trip will be memorable and spectacular. Exquisite sunshine and endearing B.C. communities beckon with the delights of the season meant to warm and delight you.
Know before you go: Be sure to check on the latest travel updates when planning your visit to Osoyoos.